Online Computers CEO and Amazon Bestseller, Carl Scalzo, collaborated with a group of technology experts, around the U.S. and is publishing his second book. The book titled, YOU Are The #1 Target: Why Your Business Is More Likely To Be The Victim Of Cybercrime NOW Than Ever Before (And What You Can Do To Stop It) is scheduled to be released in July 2019.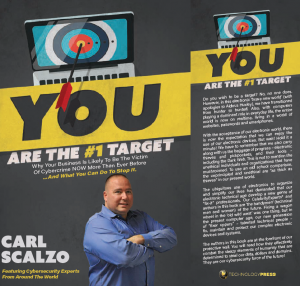 The book focuses on cybersecurity and topics include the history of cybercrime, hacking, compliance, malware, and more! Carl's chapter is titled, "The Most Popular Ways Cybercriminals Hack Your Network" and contains a lot of important information that all internet users must know and be aware of.
Online Computers is currently offering the public the opportunity to receive a free hardcover copy of the collaborative book when it's released. Individuals are encouraged to fill out the form (seen below) if interested in receiving a physical copy at no cost. In addition, those who submit the form will also receive information on a private book signing event. The event will take place during late Summer, early Fall and will give people the chance to meet Carl, in person. Don't miss out on this awesome opportunity, get your name on the list now!